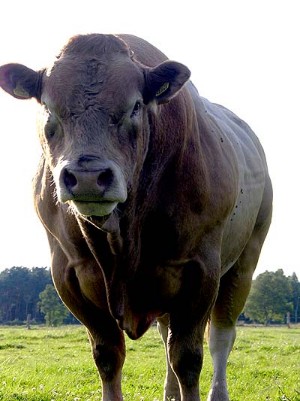 Pasture nurses....
We cultivate approx. 82 acres grassland with predominantely sandy soils, even though some parts are boggy.
Our grasslands benefit from changing cattle grazing. As there was no suitable breed especially for our farm, we started to breed specific outdoor cattle ourselves, starting with robust, hornless Galloways, followed by Herefords (hornless and robust, too) that have a beautiful, interesting colouring and excellently marbled meat. Then we continued to breed with ALONSO, an impressive Bison-Chianina-crossbreed-bull. He passed on his big-framed conformation and an exceptional meat quality to his offspring. We refined our breed with Aubrac-blood, a robust and calm breed, too, and also famous for its meat quality. Apart from that, they have the most beautiful eyes of all cattle! The last two years, we bred with BENEDIKT, an extraordinarily impressive Blonde d'Acquitaine-bull (see photo above!). He has a comparatively calm temperament for a pasture bull and is already eight years old - which is definitively not normal for a beef bull....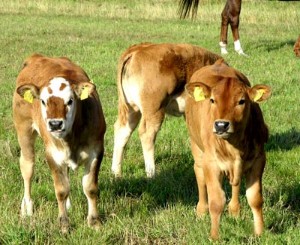 The result are robust and easy to handle cattle that live outside all their lives. We love them for their interesting, brilliant colouring - it's funny and fascinating to see the calfs being born with completely different markings every year. Their meat is of extraordinary quality and we cannot complain about lack of sales, just the contrary: Our regular customers are looking forward to our annual butchering days!
During the summer, our herd is split and some of the cattle are on the summer pastures together with the horses. Their job is to keep our grassland free of pasture parasites. During the winter, they have a pasture shelter for really bad weather - but they almost never make use of it. They are fed exclusively with grass, hay and silage grown on our own land. The only additional feed stuff are minerals. Huge stubs of a tree serve as cattle scratcher.
Heinrich Clüver is farm manager with master's diploma.