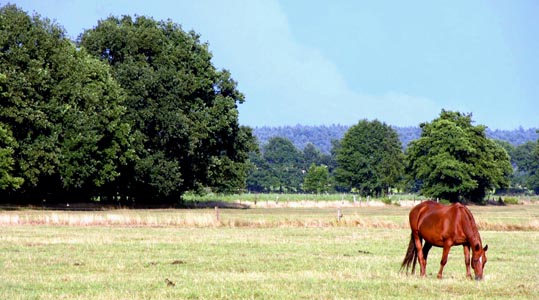 Boarding
Branken Hof is a family enterprise, and apart from our own breeding stock, we have dedicated ourselves to the boarding business. We breed and raise horses on behalf of our customers and care for old age horses. We focus on horse's individual needs and healthy feeding, and we keep all of them in age-appropriate herds during the summer on our summer pastures. Depending on the summer weather and date of birth, the foals and their dams are either kept in the stalls at night or outside 24 hours on our home pastures.
During the winter months, weaned foals and youngsters up to the age of two or three are kept in groups in large stalls, adult horses in individual stalls - depending on individual necessity, too - we don't go by the rule book!
There are two large sandy paddocks for daily turn out during the winter, a summer outdoor riding arena and a round pen. An indoor riding arena is only a stone's throw away.
We treat all horses as our own, calm, but with the necessary respect and competence. We produce the roughage ourselves and contribute to a healthy and individual feeding of all horses stabled at Branken Hof.
Our service includes:
"full board" service (feeding, daily turn out during the winter, cleaning the stalls, transport to the pastures during the summer)
support and assistance during the breed season: you choose the suitable stallion for your mare - we manage the rest
looking after in-foal mares during foaling with a special foaling system (Jan Wolters

www.abfohlsystem.de.vu

)

regular training of foals to get used to humans, the farrier, halters etc.
arrangements for regular vet service at customer's expenses (worming, vaccination - if desired also dental treatment)
arrangements for regular treatments by an experienced farrier (at customer's expenses)
We are prepared to care for horses of foreign customers (English/French).